Superhero Costumes
Dress like a hero! Buy cheap cosplay bodysuits and costumes from Comics,Movies and TVs. Over 150 suits available including Spider-man, Superman, Batman, Power Rangers , etc. Children size is available.
Fantastic Zentai

Arrived within the orders timeframe, fits perfectly and even has a little extra length on the legs if you are taller. I'm very small and the padding is thick and gives the shape volume. Durable fabric and strong invisible zippers. The shading is realistic and contours the padding well looking like muscles. It is a little bit too orange however but the picture ZZ gives is honest about the orange color. I will be airbrushing mine blue so I really don't mind this. Best look and price I found on the internet. I am a girl so the pics are on a female body.

my suit take 3weeks finished, but the shipiing is super duper fast

I want to let everyone know the life expectancy of this suit....I received thos suit back in September of 2015. It is now February 2019 and its time for a new suit. I literally wore this suit 2 a month since, doing flips, handstands and thousands of high fives....so much, so that my hands have worn thin and its time for a new suit.
I've been cosplaying the Merc with the Mouth for a while now and this is by far my favorite Deadpool suit. I've worn this suit to two cons now, and it is still holding up super well. I love the texture and foam padding, which really give it a premium look and feel, all while still being incredibly light. It is also one of the most comfortable suits I've ever worn that gives you complete range of movement so you can get into whatever Deadpool shenanigans your heart desires. 10/10 would recommend and buy again. (Oh, and I went with the jersey lycra material and rubber lenses on the detachable mask, all of which I very much recommend).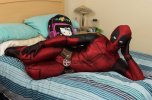 My suit arrived yesterday and it exceeded my expectations, the details of the suit are truly amazing! Ordered with custom-made measurements, thought it was going to be so tight i couldn't breath but the spandex lycra its comfortable and stretches quite well, so you wont have any troubles when moving and doing the spidey poses for pics. If you are going to order a suit, really recommend to get it custome-made to be most approximate to your body. Zentai-zentai did a really good job, i will order again soon. Thank you so much , i appreciate the commitment with the customer and hard work.