Shipping + Delivery Estimates
This page shows you how to choose a shipping method for your order, estimate shipping cost and shipping times, and gives other useful information on MrZentai's shipping process.
On this page:

Choose a Shipping Method
Calculate Shipping Costs
Estimate Delivery Time
Choose a Shipping Method
You can choose the shipping method you want on the Billing, Shipping, and Reviewpage during the Checkout process. There are three main shipping methods to choose from:
Expedited Shipping
This shipping method is the fastest available. Delivery times are between 3 - 5 days to all major destinations. Shipping costs vary with item, but all orders that use expedited shipping will receive a 47% discount on standard shipping costs.
Remote Area Fee
When shipping via Expedited shipping, please check if your shipping address is remote area for DHL. If so, when we shipping your suit, you need to cover the remote fee for your order. On our website, the remote fee can not be count because we can only check it when there is a shipping address. Usually, the remote fee is US$26.00. You can check this fee at www.dhl.com. Thanks for your understanding.
Standard Shipping
Standard shipping takes a bit longer than expedited shipping but costs less. Delivery times are between 6 - 8 days to all major destinations. Shipping costs vary with item, but all orders that use standard shipping will receive a 50% discount on standard shipping costs.
Super Saver Shipping
Delivery times are between 15 - 30 days for all major destinations. Although the delivery time is much longer, shipping costs are much lower when this option is chosen. Order tracking may not always be available with Super Saver Shipping. Please take this into consideration when choosing this option.
The above delivery estimates do not include order processing time. See estimate total delivery time for more details.
Some of our items also have extra savings on shipping. Look out for following stickers on our products:
Products with the Free Shipping sticker enjoy zero shipping costs regardless of your location or item quantity. We choose the shipping method most appropriate for your package size and destination. Please note that if any of the following conditions are met, we will ship via Super Saver Shipping, and your package will arrive within 15-30 days of being shipped:
Your order contains accessoires, mascot products
Your order is less than US$ 50
Your order is over 2kg
Calculate Shipping Costs
Shipping costs are calculated individually for each order based on the number and weight of items in your order, as well as the shipping method chosen. For this reason, the price displayed on product information pages does not include shipping.
To estimate shipping cost for any product item or combination of items:
On the item's product information page, click the Add to Cart button . You will be then taken to your Shopping Cart page.
View the total shipping costs for the items in your cart under Estimate Shipping Costs at the bottom of the page.
Choose the country you want your order delivered to from the Ship to:drop down menu for a more accurate calculation of your shipping costs.
You can also access your Shopping Cart at any time by clicking the Cart at the top of every page on MrZentai.com.
Note: Adding an item to your shopping cart puts you under no obligation to order. If after viewing estimated shipping costs you no longer wish to order an item, simply click Delete next to the item name in your shopping cart to remove it.
Estimate Total Delivery Time
Before your order is shipped, MrZentai has to process your order and put all your items through its strict quality control tests. Because of this, Total Delivery Time is different to shipping time alone.
Total Delivery Time = Processing Time+Shipping Time

As we have such a range of products, processing time differs from category to category. Please check the form below to see an estimate of Total Delivery Time about your order: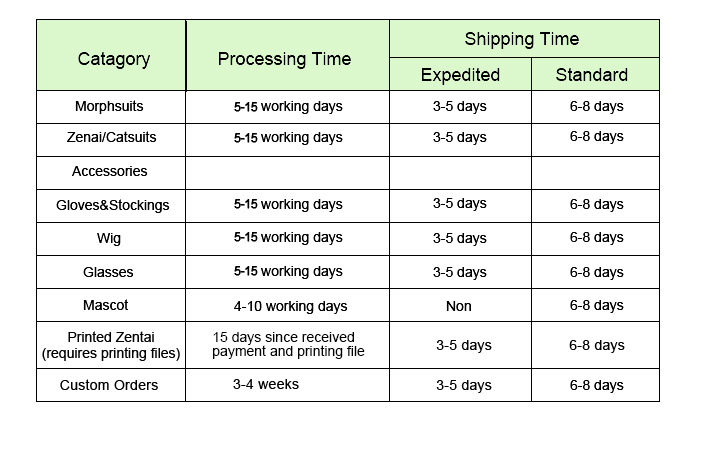 MrZentai.com Online-Store Return Policy
We are sorry if you have to file a Return Form request. In order to help you to get your return/exchange/refund smoothly, please read the following policies :
Please kindly notice that a Return Form number is required for each return. We will not process any return without the Return Form number.
Request the return must be filed within 3 days based on the delivery date of your package. Any quality issues should be proved with photographs and descriptions. Please contact : service@zentai-zentai.com.
Return must be completed, unused, unwashed and with original packaging. Any item altered or with odors(perfume, smoke, etc) is not returnable.
Custom orders (include size custom, special options and process with supplied design), Clearance are not returnable.
The Return Form number will expire 3 days after we issue it. So please send us the package back as soon as you received the number.Then provide us the tracking number and other tracking info.
After received the returned package, our staff will process the return by inspect the returned items. The refund funds will be posted to your Paypal account in 5-7 business days for your Paypal account to make it available.
MrZentai reserves the rights to deny credit if items returned in unacceptable condition.
Customers will be responsible for all return shipping cost. Returns marks COD will be refused.
For remake orders, we will send it out via super saver. If you need faster shipping, you need to cover the postage.
Kindly remainder: please send returns by postal office which is preferred.
Where to track
On-line tracking websites:
List of Postal Office websites of some countries:
If your package is shipped out via Super Saver or EMS and you can not find your country in the list above, please contact us : service@zentai-zentai.com. Our staff will track it for you.