Key Recommendation
I want to let everyone know the life expectancy of this suit....I received thos suit back in September of 2015. It is now February 2019 and its time for a new suit. I literally wore this suit 2 a month since, doing flips, handstands and thousands of high fives....so much, so that my hands have worn thin and its time for a new suit.
I've been cosplaying the Merc with the Mouth for a while now and this is by far my favorite Deadpool suit. I've worn this suit to two cons now, and it is still holding up super well. I love the texture and foam padding, which really give it a premium look and feel, all while still being incredibly light. It is also one of the most comfortable suits I've ever worn that gives you complete range of movement so you can get into whatever Deadpool shenanigans your heart desires. 10/10 would recommend and buy again. (Oh, and I went with the jersey lycra material and rubber lenses on the detachable mask, all of which I very much recommend).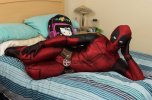 This is suit is so awesome! Can gladly recommend this! But I will recommend to buy different lenses and glue them on if you want a more movie accurate look :) But that's my opinion. But Great quality and the suit fits me like a clove! :D

Thank you ! It looks amazing!

I love this suit. It is by far my favorite costume. It fits perfectly, and I got the kung fu shoes with it so its a very wearable and functional suit. The color is bold and distinct as well!

This is by far the best suit I've had and some of the best work i have seen put into these suits! Honestly couldn't be happier than i am now with it and hope to continue my collection! Zentai Zentai is honestly the best site to get nay Spidey suit and they get the measurements exactly to what you send them! i will be showing this off to friends, family, cons, YouTube, and anywhere else i can to show this bad boy off! way to go Zentai Zentai