What others say:
If you get these lenses attached to your deadpool suit do you NOT need the faceshell? Is it either or?
Reply:
Yes, if you order lenses, you do not need to order the faceshell. You can only choose one of them :)
I am very satisfied with my purchase it arrived at my house much sooner then I thought it would, I was just wondering what kind of glue do I have to use to attach the lenses to my mask?
Asking again to show pictures. I sent about 6 pictures of my entire order, describing what was wrong. And in my order instructions I asked "that the lenses be attached to the appropriate mask".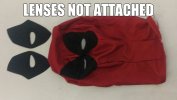 Reply:
Please make sure if you have chose lenses attached.If you order the lenses along, or detached, we will not glue them on the suits.
How do I get this lenses with my deadpool suit?
Reply:
Please order these lenses along with your suit, we will glue them on the suit for you.
I purchased these lenses. In my order I asked that they be attached to the appropriate mask. They did not come as ordered and paid for. I was asked to show a picture and I did. Then I was told I could do it myself. I did not pay for a suit to be customized, just to customize it again.
Reply:
Please send us photos. If you ordered a suit along with lenses, then they will be glued to the suit. If you just ordered lenses, there is no hood for us to attach.
I previously bought your Deadpool movie costume and the mask did not have these lenses. Will you be selling masks seperate with these lenses?
Reply:
Yes, you can order the hood along with the lenses.Please contact service@zentai-zentai.com
What mask do you use these lenses with? I don't see any associated Deadpool mask with these.
Reply:
We can glue it to all the deadpool costumes. We will post the mask with these lenses soon.