The Flash
The flash costume,flash lantern zentai costume, printed with muscle shades costume
Could you guys cut the eye holes as diamonds like the new 52 design as shown in this picture ive provided. thankyou
Reply:
Yes, the open eyes , open mouth and nose will cost extra. Please choose the options under the custom section.
When I first got this suit I thought it was mis-sized. Turns out I was just wearing too much underneath it. I changed my bottom layers and now it fits perfectly. I've already gone to multiple super hero themed charity events as Flash and people LOVED this suit. Not only does it look great, but it's easy to run around in. Definitely can't wait to wear this around even more.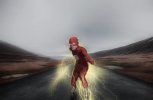 Can you put the mask behind your head like in the TV shows and can I not have the ears so floppy?
Reply:
It requires customize. Please contact service@zentai-zentao.com
If i get hands detachable could i get a thumb hole?
Reply:
Yes, we can make it. please leave your request in the remarks text box while checking out.
Hi where can I get the printing file for the CW flash version of this?
Reply:
You can get it for this pattern from www.gunheaddesign.com
Suit looks great. Custom tailoring is a must for the best fit. Only complain is the eye holes go a lot higher than expected but still very happy