Props
High quality SuperHero props with accurate details in reasonable price.
Our brand new props department will do our best to helpt you create your movie-accurate outfit.
We have over 50 skilled prop designers and workers to bring you an excellent experience.
Now we have rubber lenses, webshooters, faceshell for spider-man and deadpool, rubber
symbols for spider-man and deadpool. boots for power rangers and for the boots, we can customize them into over 100 styles. Please feel free to contact us at service@zentai-zentai.com if you can not find the props you want on this page.
wigs,spider-man facesehll, Spider-man lenses,ASM lenses, ASM faceshell,Soles,spider-man symbol,deadpool lenses, deadpool faceshell, batman faceshell
comic ones plzzz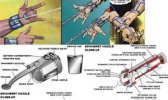 can u make 25 and 26 look like this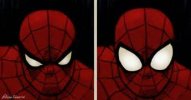 Reply:
We will :)
Really happy with these boots! First of all, I ordered them on august 20th, and they arrived on the 29th! I didn't think they could be this fast to Italy. The boots are perfect, confortable, and the sole is great. I really advice these boots!

I was wondering if, when adding the lenses, do you leave the fabric on or do you remove them so that there's no fabric under the EVA Lenses? I already own a suit I bought last year (Before you started lenses) and am considering buying lenses to go on top. Would the fabric lenses cause any large vision difficulties and, if so, would you advise against removing any fabric from the face?

Reply:
We can customize the lenses shape and color. Please contact us via email for more info.
heres a picture!

New Lenses! :) thanks once again :)