Power Rangers Costumes
Which is original? Zentai suits or something else?
The word "Zentai" can be traced back to 2005. It firstly shown up as a Japanese word "ゼンタイ" which is the originator of all the full body suits no matter what they call it now in different countries.
Why Mrzentai.com is a better option?
We choose the top quanlity spandex fabric to make our zentai suits. 4-way revolutionary and size custom service give a better fit to avoid baggy and saggy. More fabric to choose for different purpose such as cotton lycra for sensitive skin. Over 30 custom options to make your suit more comfortable or one step closer to your design.
Learn More >
Power Rangers costumes are made of high quality stretchy spandex lycra. Different series available including Super Legends, Wild Force, Mighty Morphin, etc. Custom-made is available.Every costume can be made in kid size.
Hi! can you make this version also?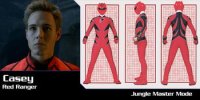 Reply:
Yes, we can customize this costume. Please contact service@zentai-zentai.com
Really happy with these boots! First of all, I ordered them on august 20th, and they arrived on the 29th! I didn't think they could be this fast to Italy. The boots are perfect, confortable, and the sole is great. I really advice these boots!

I ordered with custom-made and I measured by myself. Most parts are good but leg length was remained a little. However, this suit made me cool and I love this.

Ordered this in Child Size Small for my son. Fits perfect. He loves it!
I bought this suit for a friend of mine. Came home in 2 days and it looks amazing! The fabric is really beautiful, then the back zipper is almost invisible. Great!!
Can this be printed into shiny spandex?
Reply:
yes, we have shiny spandex lycra.Please choose fabric on the item page.