Mutants DP
  Buy deadpool costumes , deadpool cosplay costumes in cheap price
I've been cosplaying the Merc with the Mouth for a while now and this is by far my favorite Deadpool suit. I've worn this suit to two cons now, and it is still holding up super well. I love the texture and foam padding, which really give it a premium look and feel, all while still being incredibly light. It is also one of the most comfortable suits I've ever worn that gives you complete range of movement so you can get into whatever Deadpool shenanigans your heart desires. 10/10 would recommend and buy again. (Oh, and I went with the jersey lycra material and rubber lenses on the detachable mask, all of which I very much recommend).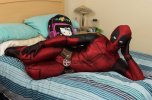 Love the custom suit. Got great remarks on dutch comic con about my lady deadpool cosplay. only downside is the leg holster, kept sliding down (little annoying) but other then that i honestly love it.

1st suit i bought from zentai-zentai and I'm quite pleased with it. Got it in time for Halloween and a Christmas party and everyone was impressed with it :) One thing to keep in mind though is to not let the finger tips touch Velcro, the threading for both thumbs on my suit had gotten loose already because most of my accessories have velcro. All-in-all I'm happy with my purchase and now have just bought 2 spidey suits from zentai-zentai and hoping to buy another design of deadpool in the near future.

Fits great, looks great! Exactly as pictured. Has very good vision and can breath out of it easily. I needed it early for Comic Con and they were extremely accommodating and rushed the processing and the shipping. I will definitely be ordering more suits in the future!

I received my Deadpool cosplay in time for a convention and I was happy about that. The costume was great, but I didn't realize it had a U-Zipper, so that threw me off a little bit, while I was trying to get into it. I was a little disappointed in the mask. It didn't look like the picture and I was hoping for someting close to it. Love the 3D Shading. If it weren't for the mask, I would have given this suit a high score. Hopefully. my next order has better designed hood. I give this cosplay item a 3 out of 5 stars.

This cosplay has been one of my favorite for years! I wore it to almost every conventions for two years straight without an issue, so much fun to wear and great quality!